Browsing articles in "The Global Fund"
By Deborah Derrick
President, Friends of the Global Fight Against AIDS, Tuberculosis and Malaria
With the holidays behind us, returning to our day-to-day lives may almost seem anticlimactic. For those of us working in global health, however, New Year's festivities started early and the excitement is likely to continue well into 2014. On December 3, the Global Fund to Fight AIDS, Tuberculosis and Malaria announced that it had mobilized an unprecedented commitment of $12 billion from donors. The conference at which this announcement was made — the launch of the Global Fund's Fourth Voluntary Replenishment — provided not only a time to celebrate, but also an opportunity to anticipate more progress saving lives in the months ahead.
The Global Fund is the world's largest public health financier, supporting programs that save 100,000 lives per month. Created in 2002 to help provide resources to win the battle against the three diseases, which were collectively killing 6 million people annually, the Global Fund now provides:
• More than 20 percent of global funding for HIV/AIDS
• More than 50 percent of international financing for malaria
• The overwhelming majority of international funding for tuberculosis
At the Global Fund's replenishment conference in December, donors from around the world made financial commitments that will span the next three years, from 2014-2016. The $12 billion raised was the largest amount ever committed to fight the three diseases. It marked a 30 percent increase over the $9.2 billion secured during the Global Fund's last replenishment in 2010 and was a result of the generosity of 25 donor countries, as well as corporations and foundations, high-net-worth individuals and faith-based organizations. In addition, many implementing countries — those receiving grants from the Global Fund — pledged to increase their own resources, adding further fuel to the fight.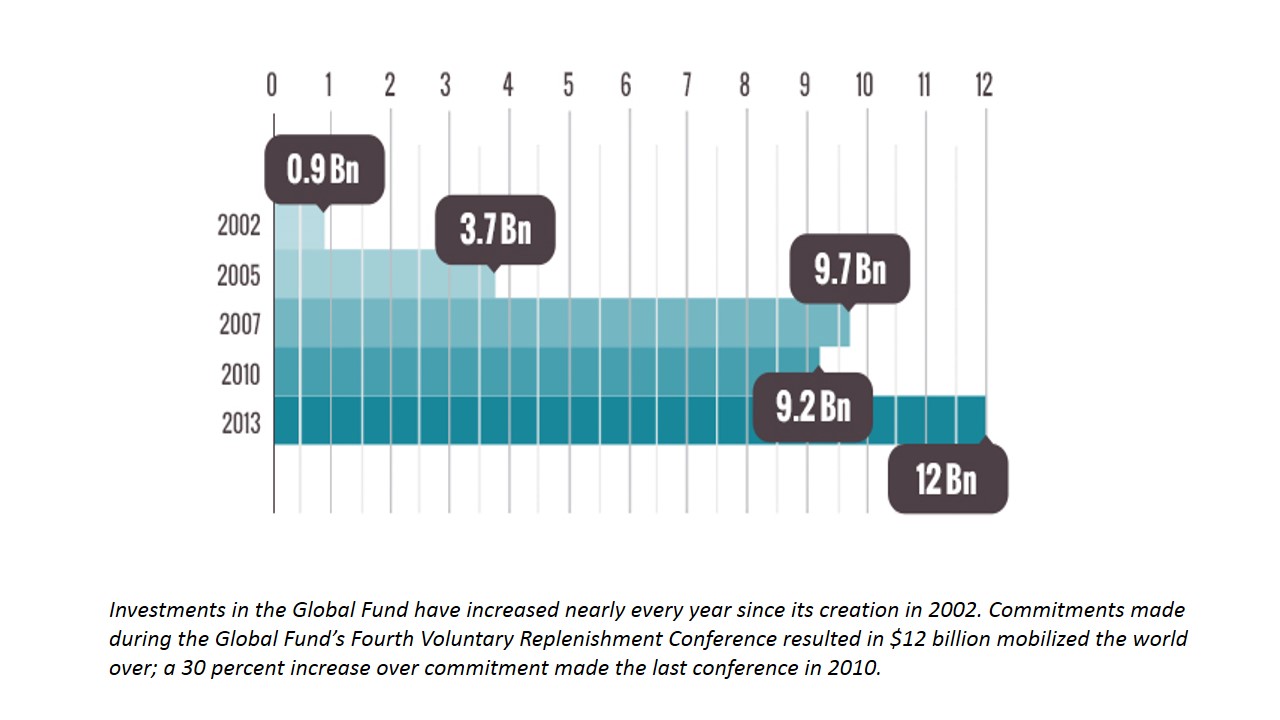 Dr. Mark Dybul, Executive Director of the Global Fund, characterized the meeting as not only a replenishment of financial resources but also a replenishment of hope, saying, "The 21st Century ideals that led to the founding of the Global Fund are now stronger than ever: partnership, shared responsibility and mutual accountability."
The hope Dr. Dybul referred to is evidenced by the remarkable progress made in the past 20 years. In that time, tuberculosis deaths have decreased by more than 40 percent. In the past decade alone, HIV incidence is down by 33 percent and cases of malaria have dropped by 26 percent. Today, the end of these diseases is truly within sight.
Here in the United States, we were thrilled at the level of commitment to Replenishment. Of course, the U.S. government has been the largest contributor to the Global Fund since it was established. The announcement by President Obama that the U.S. will commit $1 for every $2 matched by other donors worldwide — up to $5 billion — was further illustration of this leadership. It also marks a potential $1 billion increase from the Administration's previous pledge to the Global Fund for the 2010-2013 timeframe.
Notwithstanding this very successful pledging moment, the replenishment conference marked only the beginning of a rolling, three-year campaign to raise funds. The Global Fund will continue to work with donors and partners in its efforts to defeat AIDS, tuberculosis and malaria. Nafsiah Mboi, Chair of the Board of the Global Fund, who led the pledging session, put it this way: "We've had a terrific beginning. Now let's go to work."
In the years ahead, the Global Fund will deepen its work with donor governments; encourage increased private sector and high-net-worth individual investments, as well as domestic co-financing; and work to ensure treatment, prevention and care continue to reach those most in need. But this current moment is certainly one to celebrate — the beginning of a New Year in which our collective resolution is to control these three diseases once and for all. And, with replenishment efforts already well underway and increasing levels of support for the Global Fund worldwide, this is one resolution that we can hope to keep.
Global Fund News Release
14 January 2014
GENEVA — UNAIDS and the Global Fund to Fight AIDS, Tuberculosis and Malaria express deep concern that access to HIV services for lesbian, gay, bisexual and transgender (LGBT) people will be severely affected by a new law in Nigeria––further criminalizing LGBT people, organizations and activities, as well as people who support them.
The new law could prevent access to essential HIV services for LGBT people who may be at high risk of HIV infection, undermining the success of the Presidential Comprehensive Response Plan for HIV/AIDS which was launched by President Goodluck Jonathan less than a year ago.
The health, development and human rights implications of the new law are potentially far-reaching. Homosexuality is already criminalized in Nigeria. The new law further criminalizes LGBT people, organizations and activities. The law states: "A person who registers, operates or participates in gay clubs, societies and organisation, or directly or indirectly makes public show of same sex amorous relationship in Nigeria commits an offence and is liable to conviction to a term of 10 years imprisonment."
The law also criminalizes any individuals or group of people who support "the registration, operation and sustenance of gay clubs, societies and organisations, processions or meetings in Nigeria." The conviction is also 10 years imprisonment.
The provisions of the law could lead to increased homophobia, discrimination, denial of HIV services and violence based on real or perceived sexual orientation and gender identity. It could also be used against organizations working to provide HIV prevention and treatment services to LGBT people.
Nigeria has the second largest HIV epidemic globally––in 2012 there were an estimated 3.4 million people living with HIV in Nigeria. In 2010, national HIV prevalence in Nigeria was estimated at 4 percent among the general population and 17 percent among men who have sex with men.
In the 2011 United Nations Political Declaration on HIV/AIDS, all UN Member States committed to removing legal barriers and passing laws to protect populations vulnerable to HIV.
UNAIDS and the Global Fund call for an urgent review of the constitutionality of the law in light of the serious public health and human rights implications and urge Nigeria to put comprehensive measures in place to protect the ongoing delivery of HIV services to LGBT people in Nigeria without fear of arrest or other reprisals. UNAIDS and the Global Fund will continue to work with the Nigerian authorities and civil society organisations to ensure continued and safe access to HIV services for all people in Nigeria.
UNAIDS and the Global Fund urge all governments to protect the human rights of lesbian, gay, bisexual and transgender people, through repealing criminal laws against adult consensual same sex sexual conduct; implementing laws to protect them from violence and discrimination; promoting campaigns that address homophobia and transphobia; and ensuring that adequate health services are provided to address their needs.
Global Fund News Flash: Issue 35
Darshana Chakma peers through a microscope, a hot breeze from the rice paddies blowing through the open windows of her small clinic. A girl suffering from chills and a bad headache waits nervously with her family to find out if she has malaria. Darshana gets the results – negative – and the news is met with cries of joy from her family, before Darshana makes a record in a worn notebook. "It is only a fever, but make sure the children sleep under the mosquito nets," Darshana tells the family. "Cover your arms when you go to the hills and if the fever continues, come to see me again in a week."
Darshana is a community health worker in Rangamati, a remote district of Bangladesh. She is one of the unsung heroines behind a quiet revolution that is transforming countless villages and hamlets in this country. Despite being one of the poorest countries in the world, with relatively low healthcare spending, Bangladesh has made strides in a number of human development areas, including child and maternal mortality, women's literacy and life expectancy. Bangladesh is turning into an example for the region.
The British medical journal, The Lancet, recently called Bangladesh's success "one of the great mysteries of global health." Health experts say the accomplishment is largely explained by its community-based approach to health – and in particular by the mass deployment of community health workers.
BRAC, Bangladesh's oldest nongovernmental organization, and the Ministry of Health have trained tens of thousands of community health workers, who are playing a leading role in reducing the burden of malaria and TB and improving local health systems, with support from the Global Fund. The program is made up exclusively of women who are selected from their own villages. Acting as the eyes and ears of their communities, this army of nurses, lab technicians and volunteers provides basic health care and delivers prevention and treatment services village by village. "I know these communities very well," says Darshana, 37, a lab technician for 16 years. "I see many cases of malaria and TB. They know me so they come to the clinic. I feel very proud of what I do because I am serving the community."
Malaria is one of the major public health problems in Bangladesh. Out of the country's 64 districts, 13 districts are highly-endemic areas. With its lush vegetation, wide rivers and poor roads, Rangamati poses particular challenges. But the district cut the number of overall malaria cases from 28,000 in 2008 to 8,000 in 2012, and has reduced the number of malaria deaths from 24 to 1 in the same period.
To reach some remote villages where electricity is rare, the women sometimes go on long solitary trips on foot, or even in canoes during the monsoon season, carrying their microscopes and mobile pharmacy. Rapid diagnostic kits mean that a simple pin prick can deliver a diagnosis on the spot, allowing patients to start taking artemisinin-based combination therapies, the latest-generation drugs for malaria. Dr. Moktadir Kabir, senior malaria program manager for BRAC, says Bangladesh's nongovernmental organization sector owes much of its vibrancy to the empowerment of women. "Women are agents of change and development in Bangladesh. Women have played a central role in community building."
The participation of women in civil society lies in the very birth of the country. When Bangladesh broke away from Pakistan in a bloody war in 1971, much of the country's administration was wiped out, so nongovernmental organizations filled the gap. Partnerships between governments and non-governmental organizations flourished, and women stepped in, first distributing emergency war aid and then expanding to family planning and disease control.
While malaria threatens most of Bangladesh, the risk is greatest in the east and north-east, areas bordering India and Myanmar, such as Rangamati. Indigenous people and migrant workers who cross the porous borders are among the most vulnerable groups, and have become a special focus of the health workers.
Diana Chakma, a community health worker, says prevention services including teaching the correct use of insecticide-treated nets are vital to fighting the disease. After a ride by bus and then by rickshaw, Diana treks uphill to reach the village of Khamarpara, a cluster of 100 houses made of bamboo that lives off the harvest of rice, sesame, ginger and maize. Almost all the hill women work at plantations, making them and their children easy prey for the mosquitos that thrive in the alluvial valleys. A group of women and children gather in a circle and listen as Diana and a shasthya shebika, or health volunteer, start their presentation. To let everyone cool off from the heat, they hand out coconuts cut by machete and served with a straw to the apas, or sisters, as the community workers are referred to. "Sometimes I have to walk far, but I get a lot of love and respect in return," Diana says. "There is nothing better than seeing the smile of a malaria patient who has been cured."
Washington, D.C. – On 2-3 December 2013, world leaders gathered in Washington D.C. to demonstrate global unity in a launch of funding commitments for the fight against AIDS, TB and malaria over the next three years. An initial amount US$12.0 billion was pledged in contributions from 25 countries, as well as the European Commission, private foundations, corporations and faith-based organizations. That represented the largest amount ever committed to fight against AIDS, tuberculosis and malaria. It was a 30 percent increase over the US$9.2 billion in firm pledges secured in 2010 at the start of the 2011-2013 period.
At the Replenishment launch, global leaders voiced a broad consensus that we are at a historic moment in the fight to defeat AIDS, TB and malaria. Scientific advances are giving us the ability to completely control these diseases. Harnessing these funds, we can make a transformational difference in the lives of millions of people.
Note: Amounts represent nominal pledges and may be modified, up or down, to reflect donor-specified and other adjustments as the case may be.
DONOR GOVERNMENTS
2014-2016 in millions
(Donor Currency)
2014-2016 in millions (USD)
Australia
AUD 200.0
182.2
Belgium
EUR 38.0
51.6
Canada
CAD 650.0
612.3
China
–
15
Denmark
DKK 495.00
90.2
European Commission
EUR 370.0
502.9
France
EUR 1,080.0
1,467.80
Germany
EUR 600.0
815.4
India
 –
13.5
Ireland
EUR 30.0
40.8
Italy
EUR 100.0
135.9
Japan
 –
800
Kenya
 –
2
Korea (ROK)
 –
12
Kuwait
 –
1.5
Liechtenstein
CHF 0.2
0.2
Luxembourg
EUR 7.5
10.2
Malawi
 –
0.5
Netherlands
EUR 185.0
251.4
Nigeria
 –
30
Norway
NOK 1,700.0
277.4
Saudi Arabia
 –
25
Sweden
SKK 2,500.0
380.8
Thailand
 –
4.5
United Kingdom
GBP 1,000.0
1,636.90
United States of America
 –
4,002.30
Cote d'Ivoire (D2H*, Germany)
XOF 3,109.2
6.4
Indonesia (D2H*, Australia)
EUR 3.4
4.7
Indonesia (D2H*, Australia)
 –
5.4
PRIVATE SECTOR DONORS
Bill & Melinda Gates Foundation (BMGF)
Promissory Note
300
Bill & Melinda Gates Foundation (BMGF)
Cash
200
Chevron
5
BHP Billiton
10
Ecobank
3
RED (Consumer Marketing Initiatives)
40
Takeda Pharmaceutical
3
Vale
3
United Methodist Church
19.9
Tahir Foundation
39
Other
5
TOTAL AMOUNT

23,006.90
16 December 2013
GENEVA – In the first significant contribution to the Global Fund since the launch of its current Replenishment cycle earlier this month, Switzerland escalated its pledge to 60 million Swiss francs (US$68 million) over the next three years.

Compared with its pledge of 21 million Swiss francs three years ago, the new commitment represents almost a tripling of Switzerland's contribution, one of the biggest increases by any donor. It also underscores Switzerland's support for a global health hub in Geneva.

"Switzerland is very committed to the mandate of the Global Fund and to the fight against the three diseases," said Ambassador Martin Dahinden, Director of the Swiss Agency for Development and Cooperation. "Switzerland considers it a great privilege to host the Global Fund Secretariat in Geneva, where it has marked its place among other key-stakeholders in global health."

On top of that, the Swiss pledge unlocks about US$34 million in additional contributions from the United States, and about US$10 million from the United Kingdom. Each country devised their pledges in a way that partially matches additional contributions by other donors.

Donor pledges at the launch of the Global Fund's Fourth Replenishment in Washington D.C. on 3 December totaled US$12.0 billion for 2014-16. The Swiss contribution, combined with the matching funds, lifts that total to over US$12.1 billion, the largest amount ever committed to fight against AIDS, tuberculosis and malaria.

Switzerland initially pledged 21 million Swiss francs over the previous three year period, and later increased it to 26 million Swiss francs. The new commitment was approved by the Federal Council, and comes on top of technical support for risk management worth 2.4 million Swiss francs through the German BACKUP Initiative.

"This is a strong vote of confidence in the Global Fund," said Mark Dybul, Executive Director of the Global Fund. "Switzerland is sending a clear signal that we can sustain momentum in our efforts to raise money in the transformative fight against HIV, TB and malaria."

Switzerland has supported the Global Fund since its inception in 2002. Switzerland committed last year to raise its official development assistance to 0.5 per cent from 0.45 percent of gross domestic product by 2015. It also plays a prominent role in the Global Fund's governance as an alternate Board member, sharing a seat with Canada.
| | |
| --- | --- |
| | Pacific Friends operates as a program within the Kirby Institute at the University of New South Wales. |
Pacific Friends
Professor Janice Reid AC
Chair

Bill Bowtell AO
Executive Director
Pacific Friends of the Global Fund to Fight AIDS, Tuberculosis and Malaria is a high-level advocacy organisation which seeks to mobilise regional awareness of the serious threat posed by HIV & AIDS, tuberculosis and malaria to societies and economies in the Pacific. In pursuing its goals Pacific Friends has a specific interest in highlighting the need to protect the rights of women and children in the Pacific.