Browsing articles in "HIV & AIDS"
This week, the Board of the The Global Fund to Fight AIDS, Tuberculosis and Malaria will meet in Switzerland to decide how much money countries around the world will receive to help the millions of people living with these deadly diseases.
In September, the Global Fund Replenishment raised over $12.9 billion over three years of which Australia committed AUD $220 million.
TB

kills one person every 18 seconds

AIDS

kills one person every 20 seconds

Malaria

kills one person every 30 seconds (mainly children under 5 years old)
It is time to #EndItForGood
Why do young women and girls face disproportionate risk when it comes to HIV? As this film with narration by Meryl Streep illustrates, in many communities, it's a question of circumstance.
HIV affects millions of young people around the world, but with the right treatment and care, they can still go on to achieve their dreams and live life to the fullest. Lerato, from South Africa is no different. Despite being born with HIV, she is determined not to let it beat her. She wakes up every day with a drive to achieve her goals
The Guardian Global development
By Lilianne Ploumen
09 June 2016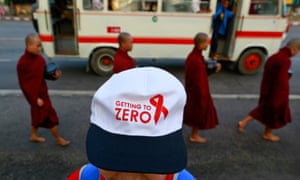 There was a time when we could say that humanity had no control over Aids, but this is no longer true. Yet only last year, 1.1 million people died of Aids-related illnesses, and 2.1 million more were infected with HIV. An estimated 19.7 million people living with HIV are not receiving antiretroviral treatment. This is not due to our inability to tackle Aids; rather, it is a manifestation of inequality in all its forms – social, cultural, economic and gender-based.
It isn't lack of drugs preventing us eradicating AIDS, but inequality.
Often, different forms of inequality go hand-in-hand: rape survivors, for instance, run an extra high risk of being infected with HIV. More often than not they are poor – and so are their rapists. Once infected, they are very likely to become ill and die and, although there are medicines to prevent this, many people don't have access to them.  This inequality doesn't only affect the world's poorest regions. About 60% of people with HIV live in middle-income countries. That figure illustrates an alarming phenomenon: although inequality between countries is fading, inequality within countries is growing. On the one hand, incomes in middle-income countries are rising, a middle class is emerging and healthcare is improving. On the other hand large groups of people are not benefiting from this progress.
Full story
The New York Times
By The Editorial Board
The world has made so much progress in reducing the spread of AIDS and treating people with H.I.V. that the epidemic has receded from the public spotlight. Yet by any measure the disease remains a major threat — 1.1 million people died last year from AIDS-related causes, and 2.1 million people were infected with the virus. And while deaths are down over the last five years, the number of new infections has essentially reached a plateau.
The United Nations announced a goal last week of ending the spread of the disease by 2030. That's a laudable and ambitious goal, reachable only if individual nations vigorously campaign to treat everyone who has the virus and to limit new infections.
The medicines and know-how are there, but in many countries the money and political will are not. Besides shining a spotlight on the disease, it's crucial that wealthy nations like the United States continue to pony up generously to underwrite what must be a global effort. Donors and low- and middle-income countries need to increase spending to $26 billion a year by 2020, the United Nations says, up from nearly $19.2 billion in 2014.
While still high, deaths attributable to AIDS are down 36 percent from 2010. That is largely because many more people are receiving antiretroviral drugs — 17 million people in 2015, compared with 7.5 million five years earlier. These medicines allow people to live near-normal lives and greatly reduce the risk of transmission to others.
But while some countries like South Africa (once a disaster zone) and Kenya have made tremendous progress in increasing treatment, many people who need the lifesaving therapy do not have access to it. Only 28 percent of those infected in Western and Central Africa were being treated in 2015, according to a recent United Nations report. The numbers were even lower in the Middle East and North Africa (17 percent) and Eastern Europe and Central Asia (21 percent). In some countries, people who test positive are told to come back when they get sick because of budget constraints, says Sharonann Lynch, an H.I.V. policy adviser at Doctors Without Borders. Many never return.
In other places, it can be hard to even reach people who need drugs because of war or the lack of a functional public health system. And many who need help are unwilling to come forward because they fear being ostracized or worse because they are gay, use drugs or are engaged in sex work. Discriminatory laws and attitudes in countries like Nigeria, Russia and Uganda have probably forced tens of thousands of people who need help into hiding.
In some countries, infections have actually increased, which helps explain why progress has plateaued over all. In Eastern Europe and Central Asia, for instance, 190,000 people became infected last year, up from 120,000 in 2010. And while the number of deaths is way down, the number of new infections was flat or down modestly over the same five-year period. This was also true of the United States, where an estimated 44,073 people were diagnosed in 2014, the most recent year for which the Centers for Disease Control and Prevention have published data, down from 44,940 in 2010.
These numbers do not argue for complacency, but instead for more vigorous public health campaigns, increased access to condoms, clean needles for drug users and prescriptions for pre-exposure drugs. There is still no cure for AIDS. But there are many ways to minimize its deadly consequences.
| | |
| --- | --- |
| | Pacific Friends operates as a program within the Kirby Institute at the University of New South Wales. |
Pacific Friends
Professor Janice Reid AC
Chair

Bill Bowtell AO
Executive Director
Pacific Friends of the Global Fund to Fight AIDS, Tuberculosis and Malaria is a high-level advocacy organisation which seeks to mobilise regional awareness of the serious threat posed by HIV & AIDS, tuberculosis and malaria to societies and economies in the Pacific. In pursuing its goals Pacific Friends has a specific interest in highlighting the need to protect the rights of women and children in the Pacific.