The Guardian Global development
By Lilianne Ploumen
09 June 2016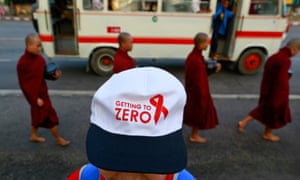 There was a time when we could say that humanity had no control over Aids, but this is no longer true. Yet only last year, 1.1 million people died of Aids-related illnesses, and 2.1 million more were infected with HIV. An estimated 19.7 million people living with HIV are not receiving antiretroviral treatment. This is not due to our inability to tackle Aids; rather, it is a manifestation of inequality in all its forms – social, cultural, economic and gender-based.
It isn't lack of drugs preventing us eradicating AIDS, but inequality.
Often, different forms of inequality go hand-in-hand: rape survivors, for instance, run an extra high risk of being infected with HIV. More often than not they are poor – and so are their rapists. Once infected, they are very likely to become ill and die and, although there are medicines to prevent this, many people don't have access to them.  This inequality doesn't only affect the world's poorest regions. About 60% of people with HIV live in middle-income countries. That figure illustrates an alarming phenomenon: although inequality between countries is fading, inequality within countries is growing. On the one hand, incomes in middle-income countries are rising, a middle class is emerging and healthcare is improving. On the other hand large groups of people are not benefiting from this progress.
Full story
404
| | |
| --- | --- |
| | Pacific Friends operates as a program within the Kirby Institute at the University of New South Wales. |
Pacific Friends
Professor Janice Reid AC
Chair

Bill Bowtell AO
Executive Director
Pacific Friends of the Global Fund to Fight AIDS, Tuberculosis and Malaria is a high-level advocacy organisation which seeks to mobilise regional awareness of the serious threat posed by HIV & AIDS, tuberculosis and malaria to societies and economies in the Pacific. In pursuing its goals Pacific Friends has a specific interest in highlighting the need to protect the rights of women and children in the Pacific.